A few of the blogs that I read,
Picky Palate
and
In Katrina's Kitchen
were talking about peanut butter pie on Friday because of blogger
Jennifer Perillo
. Jennie's husband just recently passed away from a heart attack, and his favorite thing was Peanut Butter Pie, so she was asking everyone to make a peanut butter pie and enjoy it with the ones you love. Unfortunately since Matt left on Wednesday, he wasn't here to have any, so I got to enjoy it with my sister, brother in law and daughter, and the leftovers tonight are being enjoyed with my parents as well. I made a Peanut Butter Ice Cream Pie with a shortbread crust, and it was delicious.
Here's the recipe:
Shortbread:
1/2 cup softened butter
1/4 cup packed brown sugar
1/4 cup powdered sugar
1 cup all purpose flour
1/4 cup chocolate chips
Preheat your oven to 350, and spray a 9" pie pan, or tart pan. Beat together the butter and sugars until fluffy, scrape down sides of bowl and add the flour, beat on medium until combined. Turn out into the pan and press into the pan and up the sides a bit. Prick with a fork every few inches and bake for 12 minutes, or until the sides are a light golden brown. Put the chocolate chips on the hot crust, and drizzle with some of your peanut butter sauce. Spread across the crust until combined, allow to cool completely before spreading with the ice cream.
Peanut Butter Sauce:
1/2 cup butter
1/2 cup creamy peanut butter
14 oz. can sweetened condensed milk
1 tsp vanilla
Mix all of the ingredients together in a saucepan over low heat until smooth and combined. Can be stored for 2 weeks in the refrigerator.
Ice Cream:
1 quart Vanilla Ice Cream, slightly softened
1/4 cup Creamy Peanut Butter
Put the ice cream in the bowl of the mixer, and with the paddle attachment, allow it to mix for 10 seconds. Add the peanut butter by tablespoons until combined, but you don't want the ice cream to melt.
To assemble:
Spread ice cream across the baked and cooled shortbread crust, and mound it slightly in the middle. Place in the freezer for a few minutes. If you want, you can melt together 3 Tbsp chocolate chips with 1 Tbsp butter in the microwave. Drizzle the chocolate on top of the ice cream, then drizzle with the peanut butter sauce, and chopped peanuts if you like. Freeze until ready to eat, and slice with a hot knife.
Enjoy this pie with those that you love!!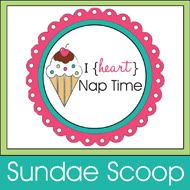 I'm linking up with I Heart Nap Time